SCOTT C. TIPS, J.D., President
Scott Tips, President and General Counsel for the FHR since November of 2006, and has been a proponent of better nutrition and health freedom since the late 1960s. Known for his many years of work on behalf of the our sister organization, The National Health Federation and health freedom at Codex Alimentarius meetings, and in editing Health Freedom News, Scott has also represented many dietary-supplement, herb, and homeopathic companies against the FDA and FTC. He has served on the Board of Governors for many years, compiled the pre-eminent health-freedom book on Codex (Codex Alimentarius – Global Food Imperialism), and made many presentations for NHF at public events and on radio. He has been the chief delegate for NHF at numerous Codex meetings, is known for his outspoken stance at such meetings, and has attended more such meetings than all other health-freedom activists combined.

PAUL HARVEY, Chairman of the Board
Paul Harvey, National Board Certified Reflexologist, serving as board Chairman of The Foundation for Health Research since November of 2006. Paul has served the National Health Federation in many different roles for over 27 years. First, he served as an NHF board member from 1987-2003. As a member of that board, he served as board member, Vice-President and Chairman, and remains on the NHF advisory board. Paul has been practicing Reflexology for over 30 years. He served on the board of directors of the Reflexology Association of California (RAC) and remains on their advisory board. As the founder and instructor of 'Condition Specific Reflexology,' Paul has been teaching advanced techniques in the reflexology field for more than seven years in Southern California and at workshops and conferences throughout the United States.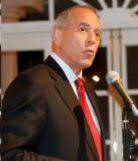 BILL SARDI ~ Secretary/Treasurer

Bill Sardi is an irrepressible consumer advocate, author, speaker, tireless researcher, and
investigator, who has served as one of the National Health Federation's Policy Advisors for many years. His books include The Iron Time Bomb, How To Live 100 Years Without Growing Old, Downsizing Your Body, User's Guide to Eye Health Supplements, You Don't Have To Be Afraid Of Cancer Anymore, Why Babies Die, The Search for the World's Best Water, and The Red Wine Pill. He is also the creator of the resveratrol-based supplement, Longevinex. Bill Sardi assumes a position on the FHR Board with the passing of Dr. Hans J. Kugler.